Pressure Washing Alternative in Lakewood Ranch, FL
Screen Enclosure Washing
Riptide Softwash in Lakewood Ranch, FL is the SAFER alternative to pressure
washing. We offer a vast array of exterior cleaning services for your home or business.
Screen Enclosure Cleaning
Pool Cage Cleaning
Taking care of screen enclosure washing is like scheduling paver washing – if you want to take good care of your home's outdoor environment, you need professional cleaning. The same way you clean your home's interior rooms, you need routine exterior cleaning too.
Our pool cage cleaning is the ideal way to get rid of the accumulation that gathers over the year:
Dirt
Leaves
Grass Clippings
Bird Droppings
Pollen & Allergen Particles
Mold Spores
The yellow dusting that gathers from pollen alone can make your pool enclosure look unattractive. We want your whole home to optimize your curb appeal, without exception.
We'll use our exterior surface cleaning methods to improve the appearance and condition of your pool cage, screen porch, and other surfaces. Let us do our cleaning work so you can focus on enjoying your home, pool, and the great outdoors.
Screen Cleaning For Maximum Enjoyment
Having a pool enclosure or an outdoor living space with screen features is an added bonus. However, if you're unable to keep it clean, it starts to become more of a nuisance than a blessing. A common mistake homeowners make is letting their deck fall into a state of disrepair, and the same can happen if you don't keep current with screen cleaning.
Allow Ripide Softwash keep you property looking like new
EXTENSIVELY TRAINED & CERTIFIED
SOFTWASH

PROFESSIONALS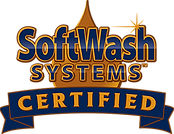 At Riptide, we use a soft & pressure wash technique to ensure that your screen enclosure is thoroughly cleaned without causing any damage. Our team of professionals is fully insured and licensed, and we guarantee our work to ensure your complete satisfaction.
Get Started in 3 Easy Steps

Call for a FAST quote!
We will visit your property in-person within 24 hours  and provide you with a quote on the  spot. We can even give you a live demonstration of soft washing.

Our expert staff will schedule your service.
We aim to get your request completed within 54 days of providing a quote.

Sit back and relax, and let us rejuvenate your home or business.
Leave the hard work to us. We'll get it done. You will even receive a 5 Year Spot-Free Warranty on your roof washing
Why
SoftWash

vs. Pressure Washing?